Cougar Athletic College Commitments
North has had a spectacularly good year in sports this year. Being an athlete at North means lots of hard work, and many athletes excel on our sports teams. However, few athletes go on to participate in athletics at the next level. Thankfully, North has some of this year's top college commits. 
Mackenzie Carver   
Mackenzie Carver is a senior cross country and track runner. Carver has committed to run cross country and track at Clarion University in Clarion, Pennsylvania. During the recruiting process, she was also considering running at Indiana State University, Loyola University Chicago and Cleveland State University.
"I ended up choosing Clarion because I loved the girls on the team," Carver said. "Clarion is also in a good conference where I thought I could compete early on while still being challenged."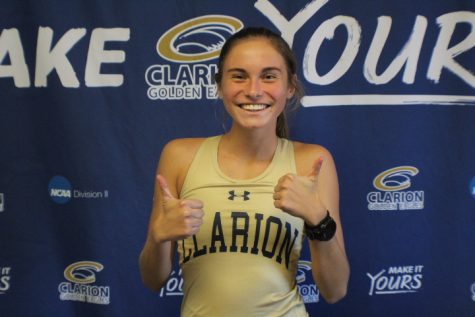 Carver also mentioned that Clarion University has many good opportunities for Pre-Med students, which falls in line with her academic interests. She plans to major in biology with a focus in Pre-Med. 
Carver has been a very successful runner during her time at North. Each year, she has qualified for state in the 4×800, and has qualified individually for state in the 800 twice. Carver has been named All-Conference three times. She has been on two record-setting indoor 4×800 teams, and has been on two indoor all-state relay teams. 
When asked for advice to give to an aspiring athlete wanting to compete in college, Carver says to keep your eyes open. Carver did not even know that Clarion existed until her sophomore year, and was reluctant to go on a visit at first. 
"Sometimes you have to branch out to figure out what works best for you," Carver said.
Xavier Trueblood     
Xavier Trueblood is a running back on the North football team. Trueblood has committed to play football at Indiana University Bloomington. Trueblood was considering playing at a smaller college, such as the University of Indianapolis or Wittenberg University in Springfield Ohio, but he did not follow that path.
"I thought that playing at a bigger school in my hometown would be a really good experience," Trueblood said. "Everything about Indiana is top-notch."
Trueblood said that he has always been an IU fan, and is excited about getting the chance to play football there. When speaking with the coach, visiting the school and watching practices, he was sure the team was something he wanted to be a part of.
When asked about his athletic accomplishments in high school, Trueblood prefered to talk about what his team has accomplished as a whole.
"This year we beat South for the first time since 2013, and we were Conference Indiana Champions," he said. "I think the biggest accomplishment for me is what my team did this year." 
On giving advice to a younger athlete, Trueblood said that when choosing a school, you need to choose a place that you are going to enjoy, somewhere that you are going to want to be for the next four years. 
"I am excited for my future and what is to come at IU," Trueblood said.  
Mya Hagerty     
Mya Hagerty is a cross country and track runner at North. She has committed to run at Purdue University in West Lafayette, but was also considering Southern Illinois University, Indiana University, Butler University and the University of South Carolina.
"I knew I loved the coaching staff before I even took a visit to Purdue," Hagerty said. "Academically and athletically it is a top notch school. I love the atmosphere and the idea that they are building there." 
Even though Hagerty is undecided on her major, she is certain that she will have many opportunities at Purdue.
During her time at North, Hagerty has been an extremely successful athlete. For cross country, she has been named All-State twice, for a twentieth place state finish her sophomore year and for placing thirteenth her junior year. She has been All-Conference three times for cross country and won the Conference meet her junior year. Her sophomore year, she won the Conference 800 meter race, and has competed at the state meet for track twice. As of now, she has the fourth fastest time at North for a 5k, 18:16. She has also been named Academic All-State for her success in the classroom. 
To anyone going through the college recruitment process, Hagerty advice is to relax and enjoy it instead of stressing. She also said to go with your gut, and when something is right for you, you will feel it. When choosing a school, Hagerty says to ask yourself if you would be happy there without your sport, and if it will help you grow academically. 
"I love all the opportunities Purdue is going to give me," Hagerty said. "I also love all the support I know I will receive there." 
Leave a Comment