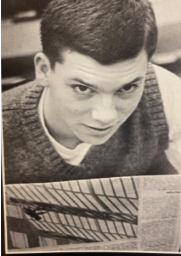 If you watch 60 Minutes, read Sports Illustrated, or follow sports in general, then you may have heard of Jon Wertheim. Well, did you know that he's a Bloomington native and attended BHSN for 4 years?
He is one of the most successful Cougar graduates of all-time as is now a well-known sports journalist, author, and CBS correspondent. He is the author of over 10 best-selling books. His contributions to the media world are far-reaching.Born and raised in Bloomington, Wertheim described himself as a "typical kid who played sports and went to the public schools…nothing particularly remarkable."
Then he took a Journalism class as a freshman at Bloomington North. This changed him greatly. "Something clicked. [Journalism] seemed fun. It didn't seem like school. Time went by really fast."This led him to get very involved with the newspaper. He joined a Herald Times high school program for journalists. The program had a supplement every week for high schoolers. There was one editor from North, one from South, and one from Edgewood. He was a part of the 1980s newspaper room where local sports writer Bob Hammel and the mayor would come in. It was a very useful and unique experience for Wertheim. The group tried to get an interview with Bob Knight, for example. He said, "Spending time in that newspaper room had a big impact on me." Wertheim mentioned, "I have very fond memories of Bloomington North."
He said his advice for high school students wanting to become journalists is to "Be nimble… Operate on the assumption that people are always going to want cool stories and smart analysis. Be flexible enough to go wherever the platform goes."
After North, he went to college at Yale University in New Haven, Connecticut. While at Yale, he didn't do as much Journalism as you might expect. He stated, "I sort of operated on the assumption that it was fun for high school, but now it's time to do something serious. I figured I'd go into law school, and kind of get Journalism out of my system."
A few years after graduating college, Wertheim joined Sports Illustrated in 1996. Then, a year later, he obtained a law degree from the University of Pennsylvania. At Sports Illustrated, Wertheim currently serves as the executive editor. He has held this position since 2012. He is one of the magazine's most accomplished voices on tennis, the NBA, and many other topics. His weekly tennis mailbag is thought of as a must-read by fans of the sport. Besides writing, he serves as a commentator for the Tennis Channel as well. He said, "The thing about tennis is that it's such a small world and everyone knows everyone. You can actually have access and interactions. I mean, there are guys that cover the Lakers every game and have never actually met LeBron James. So, that's one nice thing about tennis – that you actually can get to know the athletes."
Wertheim's work in the writing industry has been praised by many as he is the author of multiple New York Times bestsellers such as You Can't Make This Up (with sportscaster Al Michaels). In 2005, he published "Transition Game: How Hoosiers Went Hip-Hop". Through the lens of BHSN basketball, he talks in-detail about how basketball has gone hip-hop. This book has a fantastic connection to Bloomington. Eventually, in 2017, he joined CBS News as a correspondent for the network's prominent program, "60 Minutes".
He described the transition from primarily only writing to later also being on TV. "It's a different medium. You never cared what you wore when you print and you never had to worry about your hair being out of place. At the end of the day, though, it's kind of a lot of the same. There's a lot of overlap… Same drill, different medium."
One of the recent subjects he covered on "60 Minutes" was Mason Cox. Cox was born in Texas but has now gone on to become one of the best Australian rules football stars in the AFL. Wertheim said, "One of the cool parts of the job is that you don't really have to do anything you don't wanna do… Sometimes your producer comes up with an idea. I mean, I had met Mason Cox covering the Australian Open tennis event a few years ago, before COVID."
With all of the accolades belonging to Jon Wertheim, some stories really stand out to him. He said, "Honestly, a lot of types of favorite stories aren't with the most famous people or at the biggest events. I did a story that we ended up doing an hour special on CBS about the Ritchie Boys, who were WWII spies who spoke German. A lot of them were still alive at the time, like 100 years old… A lot of times the unexpected people and the unexpected stories are more memorable than covering big events or celebrities."
As to what he wants to pursue in the future, he explained, "I think that nobody knows what the media is going to look like. Some of it is kind of just figuring out where the technology takes us."
For a well-known journalist like Wertheim, his schedule is very random. He said, "I think that's one of the great appeals of the job. It's just a cliché to say no two days are alike, but I mean, some weeks I'll go to the office and other weeks I won't go near the office and it's a lot of travel."
As he currently resides in New York City, one place that will always be ingrained into Jon Wertheim is Bloomington High School North. It is where he found his passion.