BHSN 2022 Academic Award Recipients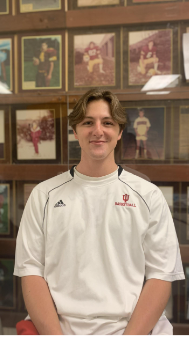 Bloomington High School North has a history of academic excellence and is proud to recognize the dedication and hardwork of those who have been awarded academic recognition awards this year. 
North is home to 6 National Merit semi-finalists this year. 
"The National Merit® Scholarship Program is an academic competition for recognition and scholarships that began in 1955. Approximately 1.5 million high school students enter the program each year." To reach the semi-finals, high school seniors have to be in the top zero point five percent of Indiana's high school seniors. BHSN Senior Jack Steiner pointed out that besides being an honor to place in the semi finals of the National Merit competition, you also have the opportunity to "move on to finals" which can allow students to qualify for anywhere from "2500 dollars" up to "full ride scholarships." 
BHSN NATIONAL MERIT SEMI-FINALISTS
Rachel Allison (12)

Brady Christiansen (12)

Rawden Harris (12)

Vincent Kreft (12)

Aika Noguchi (12)

Jack Steiner (12)
"The National Hispanic Recognition Program (NHRP) was initiated in 1983, by the College Board, to identify outstanding Hispanic high school students and to share information about these academically well-prepared students with subscribing colleges and universities." The National Hispanic Recognition Program requires students to score 180-190 in the respective categories on the PSAT, and maintain a GPA of 3.5 or higher. 
BHSN NATIONAL HISPANIC RECOGNITION AWARD RECIPIENTS
"The College Board's National African American Recognition Program is an academic honor for academically exceptional African American students who have scored in the top 10 percent of the state on the PSAT or earned a score of 3 or higher on two or more AP exams by their junior year." For students to be eligible for this award, they must score in the top 10% of nationwide PSAT scores and(or) score a 3 or higher on 2 or more AP exams by junior year.
BHSN NATIONAL AFRICAN AMERICAN RECOGNITION AWARD RECIPIENTS 
Jeremiah Casilla

Raegan Deckard

Rouguiatou Kaba
It's great to be a cougar.